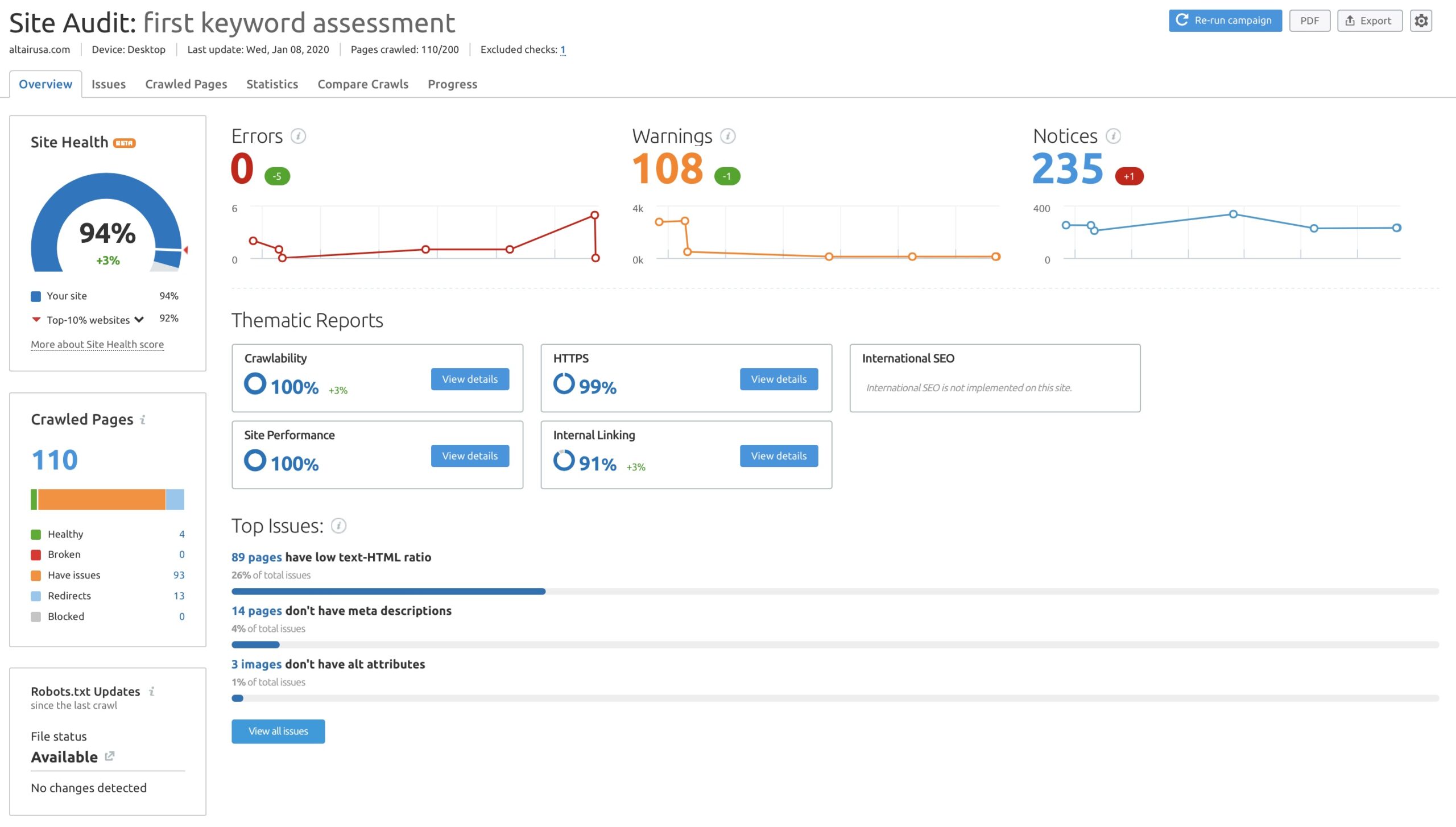 How to Crack the SEO Riddle
Get busy.
Seriously, it's a tremendous amount of work to generate results and it's about doing the work. No leaf is left unturned and constant optimization for months covering the most minute of details is necessary. To understand the level of granularity for just a small component of a website, please check out this post on SEO tasks for photos.
Conduct site audits until your eyes bleed out.

The top ten websites are 92% or better using the SEMRush tool.
Fix and improve everything to perfection; from sitemaps to re-directs to SSL issues to X-headers, to mobile page load speed and more…use a tool to help like SEMRush or MOZ, it's the most powerful tool you can use. Pick away at it every day until complete.

Research your competitors, extract they're strategies and discern where they are missing the mark; that's your low hanging fruit.
Every page and post must have an SEO plan, be structured and optimized respectively.

Meta, titles, title and header tags, schema, readability, backlinks, internal links, anchor text, alt text, etc. Photos are key, follow SEO tasks for photos.

Design and build your site to convert, have a conversation with your website visitors.

Organize and build your navigation like you are an OCD military brat such that accessibility to anything on the site is within two clicks, no excuses. Ergonomics of using the site is critical, don't create frustration and resentment, show them you know how to run your business properly.

Get inside the head of your top 3 target demographics that are searching for the product and service.

What you would type into the search bar is NOT what the target demographics use.

Lists! Lists of LSI Keywords, Semantic Keywords, and long-tail keywords; they will constantly evolve.
Run Google Ads solely to test the performance of not just the conversion of landing pages, but keywords, CTAs, and marketing copy.

Spending $25 a day for a month while optimizing every day is the key. What you learn and implement will definitively give you a competitive advantage.

Employ FAQ and How-To schema often and they should be aligned with your featured snippet target pages.

You want Google to include these in the SERP, they not only improve your rankings, but it also creates a visual differentiator and draws attention to your ranking versus the others. Hence, you may be ranked 5th, but your SERP pops out and is more likely to be clicked if your meta and title are effective.

Just like you check your email every day, you must build links every day, monitor performance, track rankings, optimize and test to improve and continuously trend up.
Share and give away as much insight and helpful information as possible.

Content marketing is an annoyingly overused strategy, but it works.
It works because 74% of buyers pick the company that helps them first and 57% of their research is complete before the first contact with a salesperson and it's all conducted online!
A single and razor-sharp post on a key value-add of the service you sell will rank higher than your dedicated service page illustrating the service you offer; that's how it works.
Put yourself out there, guest blog, post on LinkedIn solicit publishing, do what you can. I had a single LinkedIn post go semi-viral and it produced so many new contacts and people wanted to work with me because of it. I started to be solicited and it landed an interview in a national magazine.
Don't underestimate the power of the written word when you put yourself out there.