Design & Engineering
Services
Our product design services are unique in that we get to work quickly to develop a functional prototype that is sexy and meets your performance requirements while being easy to manufacture (profitable).
Industrial Product Design
Develop Prototypes (Scalable)
Mechanical Design & Miniaturization
Electro-Mechanical Design
Design for Manufacturability (DFM)
Smart Assembly Techniques (SAT)
Pressure Vessel Design per ASME
Flexible Circuits, PCB Assemblies and RF antenna design
DEVELOPMENT COSTS | TRADITIONAL VS. LEAN
Mechanical Engineering is a tip of the spear field with a plethora of sub-fields that range from material science to fluids to automation. We are fearless in taking on new projects and enjoy creating clever solutions. Below is a list of ME services and expertise we offer:
Mechanical Engineering & Miniature Electro-Mechanical
Electro-Magnetic Applications (Solenoids)
Cost-Based Tolerance/Gap Allocation & RSS Analysis
Reverse Engineering Services
Broad knowledge of materials, treatments, coatings, plating, and finishes
Finite Element Analysis (FEA) for material stress and deflection
Motion and Kinematic Analysis
Professional Manufacturing Drawings & Documentation
GD&T, ANSI Y14.5-2018 (Geometric Dimension & Tolerancing)
DFM Design Reviews for quick and easy cost reduction
Engineering for Shock and Vibration
Actuator and Control System Engineering
Electric Vehicle Packaging, clearances and crash testing
Composites, Epoxies, Tapes, and Rivets
Chemical/Mechanical Process equipment sizing
Can be your Engineering Expert Witness in the Court of Law.
The Purpose of design & engineering Work
DevSixOne originally started as a 3D printing prototype shop operating within a machine shop. We have the know-how, the resources, and are capable of facilitating the manufacture of prototypes, low-volume pre-production runs, and high-volume production runs for you and at a discount due to our long-standing relationships in the Silicon Valley Manufacturing community. Our Services include:
CNC Machining & CNC Sheet Metal
Extrusions & Castings
Additive Manufacturing – 3D Plastic & Metal Printing, SLA
Wire EDM & Chemical Etching
Plastic Injection Molding and Reaction Injection Molding
ESD plastic/foam thermoforming
Epoxy/Rivet/Tape Composite Construction
Full Suite of Materials & Heat Treatments
Specialty Molecular surface treatments
PCBs (Printed Circuit Boards) & Control Boards
FCOF (Flip Chip on Flex), Flex Circuits, Wire Bonding
Lithium-Ion Battery Packs, small and large.
Manufacturing Liaison with the experience you need to ensure you are never taken advantage of and will educate you along the way.
We save companies big bucks with our Design for Manufacturing (DFM) Reviews that lead to simple changes to designs and assembly strategies.  We re-design all DFM cost reduction measures in CAD (Including higher-level assemblies) to ensure that there are no hidden gotchas or interferences first, then we validate the cost savings with our network of manufacturers.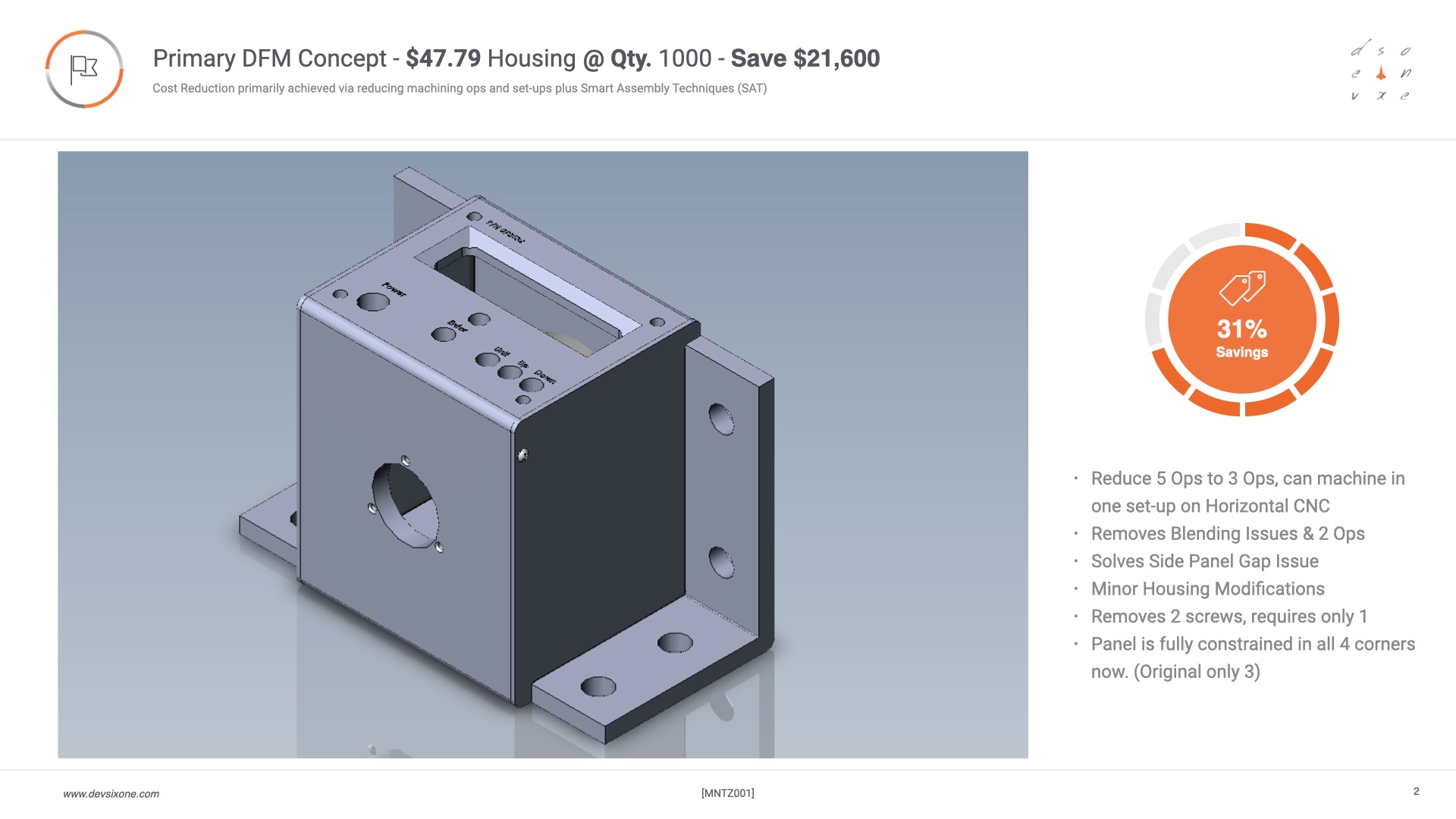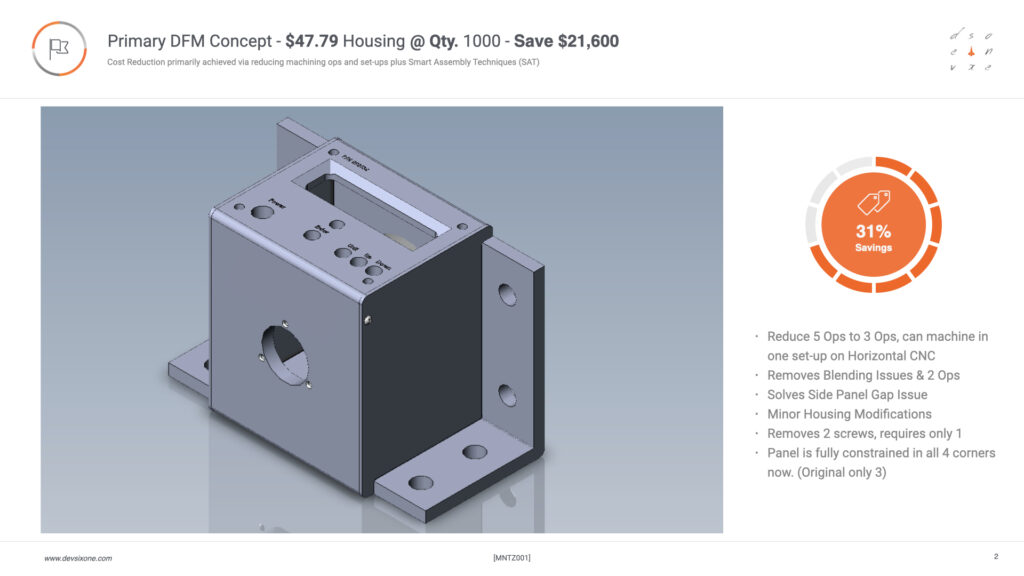 Our 3 Axioms of DFM
We are the breath of fresh air needed when solving tough problems because we strive to provide a frictionless experience for you. We can clearly and effectively communicate complex ideas, articulate progressive strategies, and navigate potential failures in the context of business goals and priorities.
Working with most engineers or smarty-pants types can be unnecessarily difficult and frustrating, however, we are down to earth and easy to work with. Our business structure is set up to offer Silicon Valley experience and expertise at a lower price point than our competitors and our clients have been reaping these benefits for years.
And lastly, our job is to actualize your vision and business goals.  Sometimes they are not feasible, other times they may need a dose of reality tweaking, and most of the time they are brilliant and inspiring. In all cases, we will be direct, matter-of-fact, work hard for you, and show you how we can achieve them together.
Get Started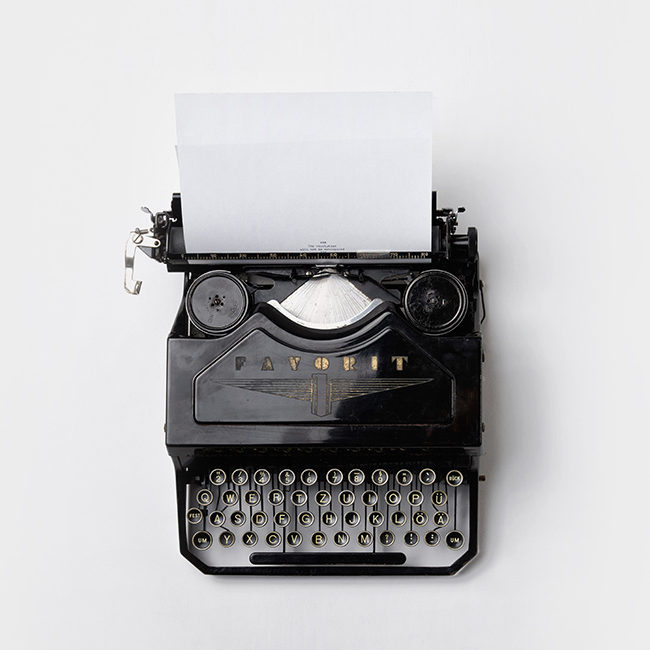 Capture Requirements
We outline and agree upon the conceptual, functional, performance and aesthetic requirements together.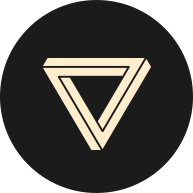 Design for Profitability
Using our requirements and design review process, we develop conceptual prototypes to test feasibility.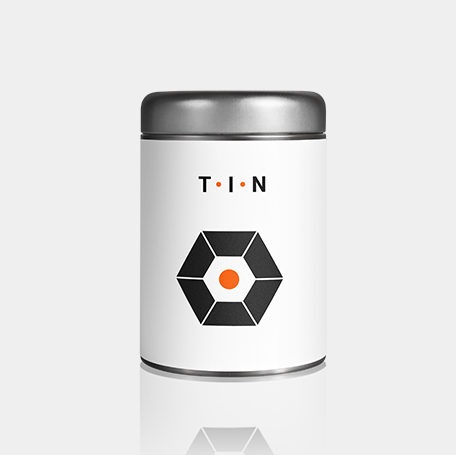 Cost Reduction & Scalability
Iterate the solution and test to achieve functional and performance requirements as outlined in step one.